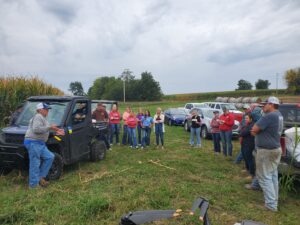 Local farmers, FFA students and area Extension personnel learned about drones and cover crops at the recent Lafayette Ag Stewardship Alliance multi-site field day. The field day included drone demonstration hosted by Cooper Farms and a cover crop plot tour with a rainfall stimulator hosted by Berget Family Farms.  Dennis Busch, Research Manager at UW-Platteville, provided information during the event.  
The Cooper family demonstrated how they used a drone to apply chemicals and biologicals to their fields this past year.  This was their first year using a drone on their farm. They used the drone to apply chemicals and biologicals to 30 acres of wheat, 60 acres of beans and 150 acres of corn and have been experimenting with seeding cover crops in standing corn. Bob Cooper obtained a pilot license and applicator license to be able to fly their drone. Their drone has both a wet and dry tank and they use it to apply fertilizer, fungicides and biologicals.  
Most of the drone's flight pattern is determined though mapping and it will take off and land automatically if desired. "You can't be in a hurry, you do about 24 acres per hour, and you have to just sit there while it flies" said Bob Cooper, Jr.  
Following the drone demonstration, the group walked Mike Berget's cover crop plot. The wheat field was harvested at the end of July, then planted later that week with a rye and oat mix and a plot of 9 different varieties. "The diversity we see above the soil is the same that exists below," said Josh Kamps.    
Some of the plot varieties were mixes of flowering plants to draw in pollinators. Byron Seeds donated the seed. As the different mixes were presented, Josh commented that "the green of the cover crop plants is a 'safe spot' for the nutrients to hide during times the soil is vulnerable and returned to the soil when the plant is terminated." 
The rainfall simulator is part of an NRCS project that measures how much water gets lost to runoff and how much is retained in the soil profile. A simulator was set up on a plot with cover crops and a plot without cover crops for the demonstration. Water is applied through the simulator to replicate 2.8 inches of rain per hour, and it runs for 30 minutes. After running the simulator, the runoff water is collected for further testing and soil health tests are analyzed. Results from other rainfall simulators showed less nutrient and water loss in the cover crop plots.