By Jim Winn, LASA president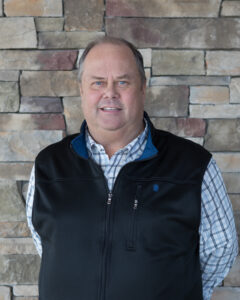 As the year 2022 is coming to an end, I believe it's time to thank everyone who helps our group flourish. What comes to my mind first is our dedicated farmers who make up LASA. It gives me great pleasure to sit at our board meetings and listen to the interaction we have between our farmers when we think of new and improved ways for our members to bring value to our group. I believe it's the number one motivator for all our groups in Wisconsin. Put like-minded farmers in a room and let the conversations begin.
This wouldn't happen without the direction from our good friends at Farmers for Sustainable Food. We can't thank you enough. TNC is another friend of our group that is always looking at new ways to provide more funds for our group to try new experiments. With their help, we have grown membership the past couple of years. Our county UW Extension agent, Josh Kamps along with Dennis Busch and Andrew Cartmill from UW Platteville is very valuable with their input for our group also. Of course, without the help of DATCP, we would not exist. So, thank you very much for your support. There are many more, but I'd like to give a snapshot of what we accomplished as a group in 2022.
We had our annual meeting in February. Paul Mitchell from UW Extension presented on how strong 2021 was for area farmers and how nutrient management practices enables farmers to work together so we can improve water quality. It was a great presentation. In March, members of LASA partnered with our friends from Grande to produce a video showcasing the national award we received the previous year. We also enjoy working with other farmer-led groups in Wisconsin, so we jumped at the opportunity to tour Jeff Endres's Berryridge Farm LLC in Dane county where he gave us a tour of his composting operation for new ways of handling manure. In May, Mike Berget, a LASA member, had a field day at his farm to show how he planted into green cover crops, and Dennis Busch from UW Platteville displayed a rain simulator. In July, LASA had our summer picnic at the General Store in Wiota. We had a great crowd, and everyone enjoyed the meal provided by Dan and Mary. Thanks to Dan and Mary for all you do for our group. You're a huge asset to us. Also in July, Josh Kamps held a Hot Cover Crop field day at the USDA building. He demonstrated different cover crops he planted in a small plot right in the city of Darlington, proving we don't need a farm to host an educational event.
Wilson Organic Farms was the site for our annual summer field day this year. The Wilson family gave us an in depth view on how they manage their organic operation and how long they have been organic. Very interesting conversation. Josh Kamps had a soil pit demonstration, and Kory Stalsberg from Southwest Tech presented a rain simulator demo. I've seen lots of rain simulators the last couple of years, but they're fascinating to watch. I always learn something new. A very worthwhile day at Wilson's. We followed up with a couple small field days this fall. We had a great year and look forward to next year.
We are already busy working on our annual meeting which is scheduled for March 1, we look forward to making 2023 our best year yet. I invite anyone who reads this newsletter to please reach out to me or any of our board members with ideas you would like to see us explore or adopt. If you like to host a field day at your farm we would love to hear from you. We're always looking for new ideas.
In closing, I would like to wish everyone a Merry Christmas and Happy New Year and I hope everyone enjoys the holiday season.
Jim