By Dan Smith, UW-Madison NPM Program, Ricardo Costa, The Nature Conservancy, and Mrill Ingram, Michael Fields Agricultural Institute
Thanks to all our collaborating farmers who responded to an online survey about their cover cropping practices and allowed us to collect cover crop samples at the end of the growing season. We recently finished our biomass sampling from around the state and have closed our online survey.
Our next steps include mailing out honorariums over the next few weeks to participants and beginning to crunch through our data. We'll have a full research report by early spring. We'll also share individual information about biomass yield, nutrient analysis and forage quality in the early spring.
Biomass samples are in the dryer now, but forage quality analysis is taking a while at the lab.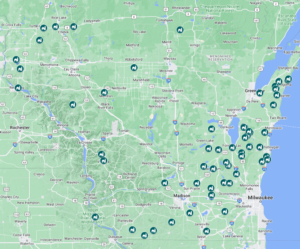 Around Wisconsin, 55 farmers participated from at least 33 counties. Seventeen participants were repeats from our previous seasons.
Driving around the state for this third year of collecting biomass samples, we saw less cover crops than in the past in the southern parts of the state, likely due to dry conditions and a longer harvest season. However, other areas east of Lake Winnebago had timely rains and cover crops looked good.
Again, we deeply appreciate all the farmers who worked with us, as well as the financial and collaborative support from the Wisconsin chapter of The Nature Conservancy and the Wisconsin Natural Resources and Conservation Service. We also want to thank Jamie Patton and Dan Marzu of the University of Wisconsin-Madison Nutrient and Pest Management Program for helping us collect samples. More results will be out soon, but in the meantime, here's a quick peak at our results:
Farmers' experience with cover crops was distributed, with 40% of respondents having 4-6 years of experience.
The number of acres under cover crops by each respondent ranged from under 100 to over 2,500.
Regarding the percentage of each farm under cover crops, numbers ranged from under 10% to 100%. Thirteen respondents have between 25-50% of their farms in cover crops, while nine respondents have 100% acres in cover crops.
Multiple farmers mentioned the challenges of planting cover crops after corn, especially when corn is harvested late in the season.
Stay tuned for details on cover crop species, timing, nutrient management and more. For more on us and our work, please visit our webpage.
If you're interested in potentially joining us for the 2023 season, reach out to Ricardo.