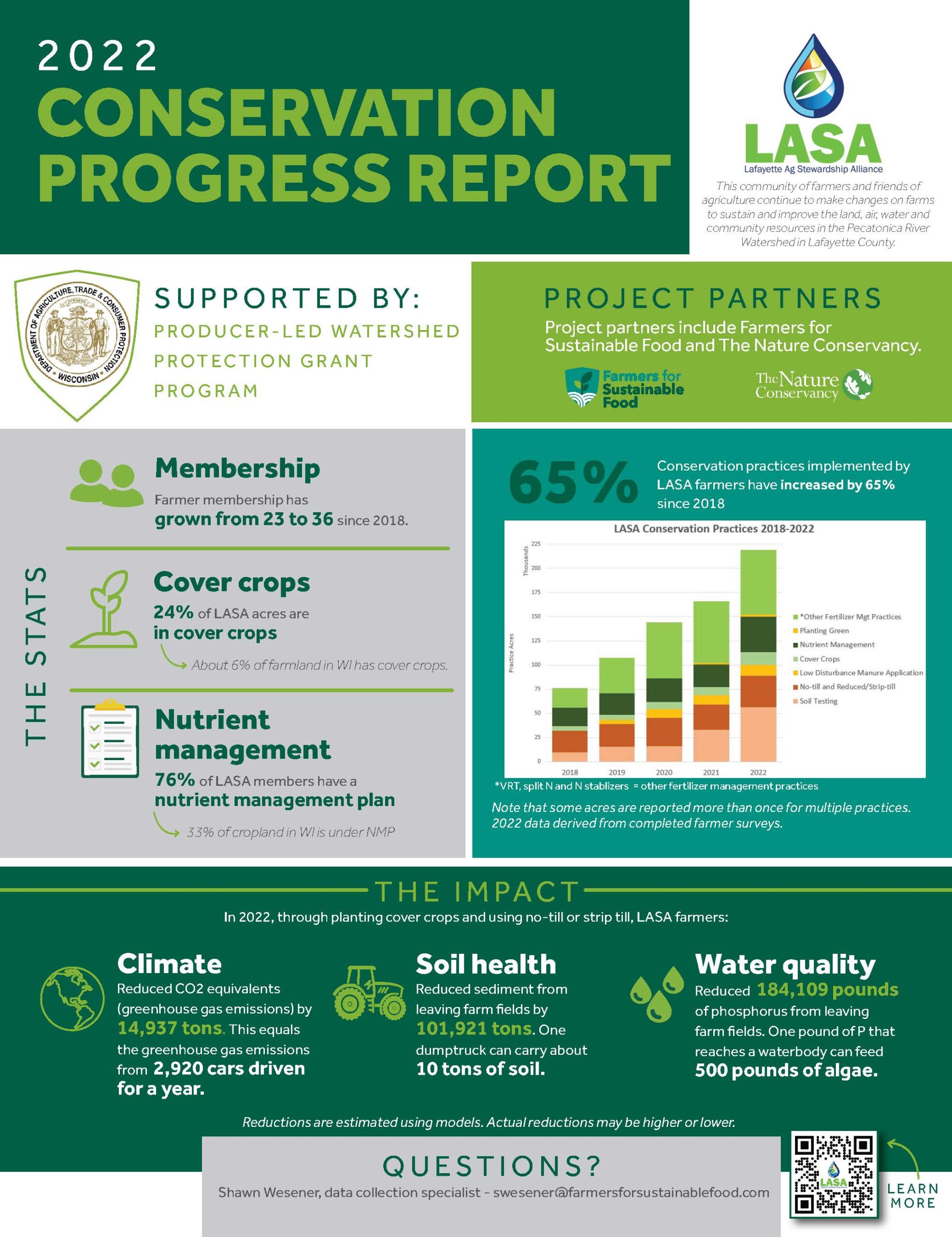 Cover crops provide soil and feed savings on Cooper Family Farm
Conservation practices work on all-size farms
Farmers in Lafayette County have embraced cover crops, recognizing the many benefits they provide their businesses and the environment. Through community education and hands-on experimentation, these farmers are discovering the value of a practice that improves soil health, prevents erosion and enhances yields.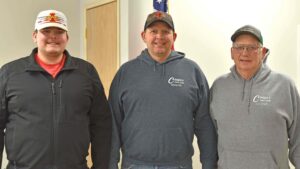 Bob Cooper Sr., Bob Cooper Jr. and Ben Cooper are three generations farming together on 320 acres. In 1979, Bob Sr. started milking cows in Wiota, moving from his home farm in Illinois. Moving from flat land, he immediately implemented conservation practices like contour strips and grass waterways to protect the fields' soil. That legacy of sustainability continues with his son and grandson.
The farm transitioned from milking cows to raising beef in 2014. They have 50 beef cows and raise 300 calves from neighboring farms to feeder calves and finish to butcher. They started experimenting with cover crops about five years ago, but with encouragement from a neighbor, the farm joined Lafayette Ag Stewardship Alliance to learn from other farmers experimenting with different species.
"We were already planting radishes, turnips and oats after our wheat harvest, but LASA introduced us to sorghum sudan and other crops besides rye," Bob Sr. said. "All our fields are green now in spring; we have about 75% in cover crops."
LASA members planted 13,251 acres of cover crops in 2022, the equivalent of nearly 10,000 football fields.
Coopers are newer members of LASA, a farmer-led watershed conservation group in Lafayette County in southwestern Wisconsin with 36 members. The seven-year-old group represents 63,428 acres and 40,537 dairy animals, beef cattle and pigs. The alliance collaborates with university researchers, environmental groups and community leaders.
The farm sees yield increases by using cover crops as they reduce inputs. The Coopers are still getting, on average, 250-bushel corn. Besides having healthier soil, Ben is seeing significant benefits of feeding the covers to their beef herd.
"Using cost-share from LASA, we planted sorghum sudan with berseem and red clover on 24 acres. We were able to harvest 75 bales off in fall that fed the beef cows through the winter, and our fields are green and growing again now," Ben said. "We only had labor costs into it and saved on feed costs."
Bob Sr. picked a clover the first week of April; the root was over 5 inches. Having a living root throughout the year helps keep soils and nutrients in the fields and out of local waterways.
In addition to the cover crops, LASA members practiced reduced soil tillage on 32,841 acres in 2022. Members also use soil sampling and nutrient management plans. Overall, the group has seen a 65% increase in acres with conservation practices since 2018.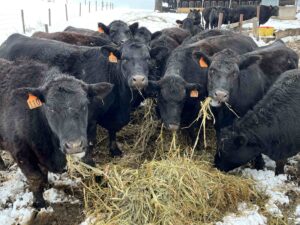 According to modeling-based analysis, cover crops and other field practices adopted by LASA farmers significantly reduce the chance of harmful runoff into streams and lakes. The farmers in 2022 potentially prevented an estimated 184,109 pounds of phosphorus from leaving the fields and reduced 101,921 tons of sediment erosion along with reducing carbon dioxide equivalents by 14,937 tons, according to an analysis shared by
Farmers for Sustainable Food, the state Department of Agriculture, Trade and Consumer Protection; and The Nature Conservancy.
For comparison, a mid-size dump truck can carry 10 tons of sediment, and 1 pound of phosphorus in a lake or stream has the potential to cause the growth of up to 500 pounds of algae, which can degrade water quality. The amount of reduced greenhouse gas emissions equals 2,920 cars driven annually.
The analysis estimated the potential impact of cover crops, low-disturbance manure application and reduced tillage compared to more conventional methods typical to the group's area.
The Nature Conservancy, a key supporter of LASA, helps bring new soil stewardship ideas to the group.
"Each time I talk with the farmer members of LASA, I am heartened to hear their stories from trying a new conservation practice on their fields," Steve Richter, TNC's director of agriculture strategies in Wisconsin, said. "LASA members are showing me that farmers can make a difference when they are given the funding and decision-making to use conservation practices that work right on their farm."
Being a member of LASA has helped the Cooper family learn new ideas and tweak practices to accomplish their conservation goals. They are constantly looking for ways to support all three generations, so keeping the land they own sustainable and profitable is extremely important. Comparing notes with other farmers trying the same thing is highly valued.
The Coopers have their sights set on what is ahead. The farm recently purchased a drone with plans to spray and plant covers.
"Now that we have this drone, it opens up many new opportunities for our farm, including trying biologicals," Bob Jr. said.
BY THE NUMBERS
Number of acres covered by conservation practices among Lafayette Ag Stewardship Alliance members:
2018 ― 75,946
2019 ― 107,421
2020 ― 144,105
2021 ― 165,851
2022 ― 218,969
*Multiple conservation practices can be used on a farm field
Potential impact of conservation practices in 2022:
Phosphorus runoff reduction ― 184,109 pounds
Sediment erosion reduction ― 101,921 tons