Farmer-led group annual meeting covers variety of sustainability studies
Momentum continues growing in southwestern Wisconsin for the nationally recognized Lafayette Ag Stewardship Alliance. The farmer-led watershed conservation group highlighted its progress during its annual business meeting on March 1.
The meeting included presentations by several University of Wisconsin-Extension representatives on local research and updates on conservation results from LASA's sustainability project and member conservation practice survey.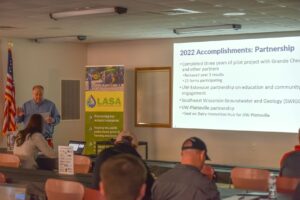 LASA President Jim Winn of Cottonwood Dairy in South Wayne said he was proud of the group's momentum over the years, growing to 36 farms representing over 40,537 dairy cows, hogs and beef cows and over 58,869 acres of cropland in the county.
Rodrigo Werle and Nick Arneson, members of UW-Madison Cropping Systems Weed Science Program, shared strategies for using cover crops and planting green that can help with weed and pest management. Many weeds are becoming herbicide-resistant, so finding new sustainable ways to support crops is essential.
Werle shared how planting green into cereal rye can help keep waterhemp out of fields by having enough biomass not to allow it to grow.
"We've found having 4,460 pounds of cereal rye per acre in the spring gives enough biomass to truly affect the small seed weeds from growing," Werle said. "Rye survives the harsh Wisconsin winters and can explode its growth in just a week. When more biomass is in a field, fewer waterhemp plants exist."
LASA recently completed its fifth year of a member conservation survey, backing up conversations about sustainability with proof of work. It is also entering its fourth year in a nationally recognized sustainability project that measures environmental improvements and financial impact on farms.
Shawn Wesener, data collection specialist from Farmers for Sustainable Food, shared results from the survey completed by 34 farmer members; members continue adopting practices with impressive growth. From the 2018 survey, 61% of farms were doing soil sampling; now, all the farms are actively sampling. Over half of the surveyed acres are reduced-till and no-till. More farms are trying newer practices, such as planting green; 38% of the farmers tried it this year.
Kory Stalsberg, farm business and production management instructor at Southwest Wisconsin Technical College, leads the financial data analysis for the group's sustainability project. The first three years' data of the corn grain production analysis showed an investment of $0.80 per bushel resulted in 15 bushels per acre and a gross return of $107.91 per acre.
"Data suggests that implementing conservation practices will result in a greater gross return per acre for corn silage, corn grain and alfalfa than the benchmarks," Stalsberg said.
Mark Renz, UW Forage Systems weed scientist, talked about how alfalfa could solve weed management problems, increase farmer profitability and provide environmental benefits.
"We've been researching it for well over ten years, and we're just now in a phase where we're trying to get some on-farm large-scale demonstrations," Renz said. "There are challenges, but overall, we see more benefits with increased environmental benefits, profit and yield."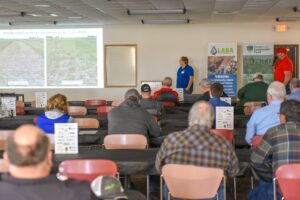 Josh Kamps, UW-Extension Lafayette County agriculture educator and Dan Smith, southwest outreach specialist for the UW Nutrient and Pest Management program, presented their first-year results on planting alfalfa green into winter cereal rye study.
The group's farmers hope to bring knowledge learned back to their farms, increasing participation in cost-share programs and educational events throughout the next year.