By Mary Hookham For Lafayette Ag Stewardship Alliance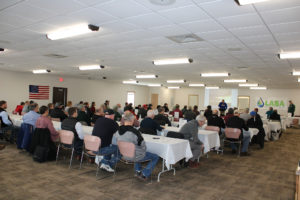 Twenty-four farmers in southwestern Wisconsin are laser-focused on building healthier soils and improving water quality by implementing sustainability practices that will make a long-term difference.
Several of those farmers, who are members of Lafayette Ag Stewardship Alliance (LASA), shared their knowledge and the lessons they are learning on Feb. 25 during the farmer-led watershed conservation group's annual meeting.
Mike Berget, a crop and hog farmer, started strip-tilling in 2012 and, despite ongoing weather challenges, persisted and is seeing improvements every year. He does mostly no-till on his corn-on-corn acreage and is pleased with the seed bed this creates.
"We're able to leave 60 to 70 percent of the residue after we plant," Berget said. "Our goal is always to reduce soil erosion and increase water filtration."
Reducing soil erosion is important to organic farmer Keith Wilson. He started using cover crops several years ago as a way to keep soil on his farm. His go-to cover crop is rye and then he plants corn or soybeans each spring. By adding gypsum to the soil, he achieved a sponge-like consistency to help hold in moisture before the last few years of heavy rains.
Wilson uses plenty of forages on his farm, including about 20 pounds of corn silage in his dairy ration, and produces 120 acres of corn silage each season. He works manure into acreage with tillage radishes and yellow peas.
"In our type of farming, you have to keep an open mind," Wilson said. "We've increased our organic matter in a lot of those fields. The health of the soil really helps to hold in water and nutrients."
Brian Larson, partner in Cottonwood Dairy, agrees with Wilson when it comes to keeping an open mind. Larson is willing to try almost any new sustainability practice, and he focuses on the bigger picture of water quality and soil health.
"We just keep experimenting," Larson said. "If we could find a way to no-till every acre of alfalfa and corn, we'd do it. And we would use low-disturbance manure application. If we could achieve those things, we'd have a good plan."
Jim Winn, president of LASA who is also a partner in Cottonwood Dairy, wholeheartedly believes in using cover crops. His dairy uses rye, oats and barley.
"I think we have the cover crops down to a science, even though these last three years have been a struggle," he said.
Soil health is crucial to farmer Dan Kamps. He started using contour strips to decrease erosion and is seeing positive results. Strip-tilling is also showing positive results. Microbe activity continues to increase. Additionally, he is using less fertilizer every year but getting better crop yields.
"We've noticed more earthworms since we started strip-tilling," Kamps said. "The soil just comes to life. And you know the water will soak down into that medium a lot better than a medium that's like asphalt."
Josh Kamps, agriculture agent with University of Wisconsin-Extension in Lafayette County, has been studying cover crop usage in the area and is finding soil conditions are considerably better than just a few years ago. He's looking at the effects of nitrogen rates on corn yields and harvesting rye as forage and then how it's being used in the dairy community.
"The microbe activity in soil is increasing," he said. "Microbes like to travel, get a bite to eat and then go back down in the soil."