Farmer-led group reviews sustainability work results during annual meeting
Heading into the third year of a nationally recognized farm-level sustainability project, members of the Lafayette Ag Stewardship Alliance (LASA) met for their annual business meeting on Feb. 25.
The meeting included presentations from leading researchers at the University of Wisconsin-Madison and the University of Wisconsin-Platteville, as well as a message from leadership on the past year.
LASA President Jim Winn, of Cottonwood Dairy in South Wayne, said he was proud of the momentum the group has gained over the years, growing to 35 farms representing over 32,000 dairy cows, nearly 52,000 hogs, more than 3,900 head of beef cows and over 59,000 acres of cropland in the county.
Winn shared updates with the group on a partnership with Grande Cheese, Farmers for Sustainable Food (FSF) and others that earned an "Outstanding Supply Chain Collaboration" award from the Innovation Center for U.S. Dairy. The groups are measuring environmental improvements and financial impact on farms.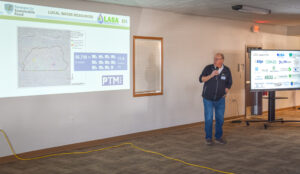 Doug Thomas from Houston Engineering is providing environmental consulting for the project. With 15 farms enrolled, most recent measurements were taken in 170 fields representing 15,000 managed acres.
"There are a lot of questions when starting a project like this," Thomas said. "One of the most important is 'How do you measure on-farm sustainability?'"
For this project, the partners utilize Field to Market's Field Print Platform. Data collections were used to produce sustainability metric scores for three key areas: crop fields, farm averages for crops grown and project averages. They looked at biodiversity, energy use, greenhouse gas emissions, soil carbon and other areas. Thus far, the results have been positive.
Water quality scores increased 18% from 2019 to 2021. Greenhouse gases emissions dropped 15%.
Attendees also heard from Steve Richter from The Nature Conservancy (TNC) Wisconsin Chapter, on other projects the group is working on. Richter shared results from various studies on plant tissue, manure, fertilizer application and more.
"I'm really proud of this group and its accomplishments," Richter said. "Farmer-led groups are such a wonderful forum for invoking change."
Richter also shared topics members have interest in learning more about in the future, including cover crops and incentive programs, field days and demonstrations, technology and carbon credit markets.
Dr. Paul Mitchell, a professor and extension specialist in the Department of Agricultural and Applied Economics at the University of Wisconsin-Madison, presented on commodity and input costs behavior in recent history and the near future.
Mitchell laid out data proving how strong a year 2021 was financially for farmers in Wisconsin. Crop yields were at or near record levels and government assistance programs filled in gaps.
"Farmers have been paying down debt," Mitchell said. "Farm debts are near the lowest levels we've seen since 2014."
Looking toward 2022, Mitchell is tepid with his excitement. Land values across the state have grown rapidly and export markets for commodities and fertilizers could be impacted by events in Europe. He also expressed concern about crop yields should the state experience another dry summer.
"We burned through a lot of water in our soil profile last year," Mitchell said. "If we don't have some spring rain, yields could be impacted."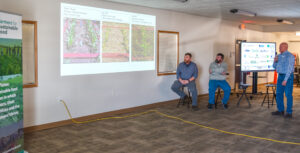 The group also heard from researchers and participants in a soil health study in coordination with the University of Wisconsin-Platteville. Attendees had the opportunity to hear directly from farmers working in the study and how they saw improved soil health and water quality after implementing certain strategies.
Winn said he is even more optimistic about the group's future. He encouraged attendees to get involved with the board of directors and host field days.
"Consider getting more involved this year," Winn said. "I'm challenging our group to make 2022 our best one yet. With your help, we can get there."