By Jim Winn, LASA president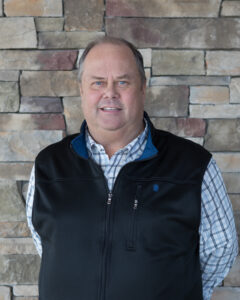 As I write this column in early December, it's hard to believe it's wintertime as temperatures are in the low 50's with bright sunshine. But looking back at this fall our weather today is what we've been experiencing all fall. Absolutely beautiful weather was the normal this year in our neck of the woods. So as the year comes to an end let's look back at the 2021 crop year and see what is new with LASA.
We had a great spring, and all crops were planted in a timely matter. Although quite dry all summer, we were fortunate to get some late summer showers and in turn received great grain yields recorded in our county. So hopefully our members are going into winter with a good feed supply for livestock and selling crops. Due to Covid it still made it difficult to gather for the normal events as we have done in the past, but we did manage to have some sort of normalcy.
In May, with the help of UW-Extension specialist Josh Kamps and LASA member Jason Rowe, we held a planting green field day, which was well attended and very informative. In July at the Lafayette County fair, LASA had a cover crop booth in conjunction with our county Land Conservation Dept., Sustainable Agriculture Research Education (SARE), The Nature Conservancy (TNC), Natural Resources Conservation Service (NCRS) and Josh Kamps, which garnered a lot of interest. Then later in July, LASA – along with the help of Josh Kamps (I think everyone is getting used to hearing his name as he is a great asset to our group) –held a field day at the Extension offices with the help of TNC and Dennis Busch from UW-Platteville. Kamps hosted a summer annual species tour and Busch demonstrated a rainfall simulator.
Again, the event was very well attended. Then in September, LASA helped Kamps with a Pest Management workshop at Jason Rowe's soybean plot along with several UW -Extension specialists. As difficult as it is in these times, LASA still found ways to keep our members engaged with some field days. We hope to get back to normal in 2022 with more traditional types of field days. We will be working on planning future field day events over the coming winter months.
We are wrapping up our third year with the pilot sustainability project with Grande Cheese. Not enough can be said about what this pilot project means to our group.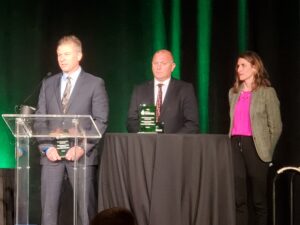 As you may know, we were honored in November by the Innovation Center for U.S. Dairy for "Outstanding Supply Chain Collaboration" in conjunction with Farmers for Sustainable Food (FSF) and Grande. I would like to thank Houston Engineering, our good friends at Extension and Southwest Wisconsin Tech College, FSF and a host of others too numerous to list in this space. Most of all, we thank Grande for supporting us and bringing this idea to us. We will cherish this award for many years to come. I would also like to personally thank Jay Stauffacher for attending in my place, along with other staff of FSF for accepting the award for LASA. I encourage you all to visit our website and see the real numbers of what our member farmers are doing to help the environment and keep our communities healthy. We are very proud of our accomplishments, but our work is not done yet. There is much more to do.
We encourage all our members to attend our monthly board meetings, not just board members, to see what is going on with LASA. I challenge each of you to come to a few board meetings throughout the year. We would like to see input from everyone, not just a few. Let's get everyone involved. As I stated, we are busy working on next year with our annual meeting coming up on February 25 with UW-Extension specialist, Paul Mitchell. Keep an eye on our website for any news concerning LASA.
I am honored to lead such a forward-thinking, like-minded farmers group. Special shout out to TNC, FSF, DATCP, Dairy Business Association and Edge Dairy Farmer Cooperative for their continued support. It would be impossible without all your help. Thank you! Let's make this the best year yet and I look forward to a healthy prosperous year for all our members. Bring on 2022!
Sincerely, Jim