Friends of LASA,
WOW!  2019… Is it finally over?
As we begin a new year, I'm sure we all have a few interesting words to describe 2019 (some may not be printable), but it was definitely a wild ride. Wet weather seemed to be the norm the whole year as spring planting was delayed, and it's still fresh on our minds how silage harvest, corn harvest and manure applications dragged on and on due to rain, rain and more rain.
But there is good news! We can be proud of LASA's accomplishments this past year.
In February, we hosted our annual meeting with a great crowd, including many soil conservationists. It's going to be hard to top this annual meeting, but we are busy doing our best to come up with some great speakers and panelists to bring to you in 2020. (Mark your calendars for Feb. 25 and turn to the back page of the newsletter for more details.)
Beautiful weather was on the menu at our third annual field day in August at UW-Platteville's Pioneer Farm. We had the opportunity to see a rainfall simulator in action from our friends at Soil Health Partnership, our own Josh Kamps walked attendees through the soil pit demo and there were other demonstrations pertaining to soil health and water quality. All in all, it was another great field day.
We are all focusing on the SWIGG study that is in its second year, and more information is coming to light. The research is showing the complexity of the challenges. I'm very proud that LASA got involved in the study as it shows that farmers do truly care about the environment and clean water.
Finally, we are anxiously awaiting to see what our farmer-member conservation practice survey numbers reveal about what kind of impact we had on the environment this year.
It is our hope that as difficult a year as 2019 was, our alliance still made a difference and other farmers in our area see what kind of change we can all make when we work together. It is my hope with our current membership (and hopefully some new members) that we'll have a few members step forward and try some more soil conservation enhanced methods, such as no-till into low-disturbance manure applications.
I would like to thank all of our members and especially our board members, who meet monthly, for all your hard work. We've made progress in the short time we've been working together, but we have lots more to do.
Here's to continued progress in 2020!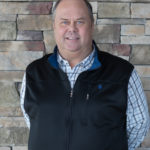 Jim